Discussion Starter
·
#1
·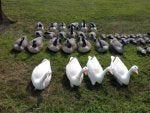 Have 73 decoys ------ goose floaters and shells. Canada and as you can see a few snow goose floaters, Pintails, mallards, wood ducks, will throw in the ghg decoys and have five metal stands but not all of the plastic cones for mounting to the frames.
All around good starter setup for duck and goose
Let me know if you have an offer I can always just decline
Located in the Wintersville, OH area
None of the decoys have flocking ..the pintails have never seen water... The mallards have worn paint but still had limits of mallards last year over them.. Wood ducks are in great shape. Goose decoys are in good shape also three of the Canada floaters have turntable heads.
Thanks and safe hunts to all this year
Would like to sell all for $250 to me that's fair just over $3.40 per decoy